Tony Awards 2023: Jodie Comer wins as Ariana DeBose hosts unscripted
Jodie Comer says she's "overwhelmed" after winning a prestigious Tony Award for her one-woman Broadway show Prima Facie.
The Killing Eve actress won best leading actress in a play for her portrayal of a defence lawyer who ends up in the witness box.
The Tony Awards were hosted by Ariana DeBose in New York, but she did not use a script due to the writers strike.
The ceremony also saw two non-binary actors win prizes for the first time
In her acceptance speech for her performance in Prima Facie, Comer said: "This woman in this play has been my greatest teacher.
"I have to thank Suzie Miller for that, who wrote this magnificent piece. Without her writing that [I] would not be here so this feels just as much Suzie's as it is mine."
The 30-year-old from Liverpool has previously won an Olivier award for her performance, which transferred from London's West End to Broadway.
The actress went on to thank members of her production team and apologised to her friends and family for being "absent" in the past year as she worked on the show.
"To every person who feels represented by Tessa, this has been my greatest honour," she said, quickly adding "and it continues to be – there's three weeks left!"
Host Ariana DeBose 'unscripted'
Sunday's ceremony, which is Broadway's biggest night of the year, was hosted by Oscar-winning actress Ariana DeBose who warned audiences to "buckle up" as the show was unscripted, due to the ongoing Hollywood writers strike.
The show opened with a performance where she flipped through empty pages in a binder labelled "script" in a dressing room
"We don't have a script you guys. I am live and unscripted. You're welcome," DeBose said.
"To anyone who may have thought that last year was a bit unhinged. To them I say 'darlings, buckle up'."
Several winners, including best leading actress in a musical winner Victoria Clark, referenced the Writers Guild of America (WGA) strike during acceptance speeches.
"We are nothing without our writers and I support the WGA and their struggle for the contract they deserve," she said.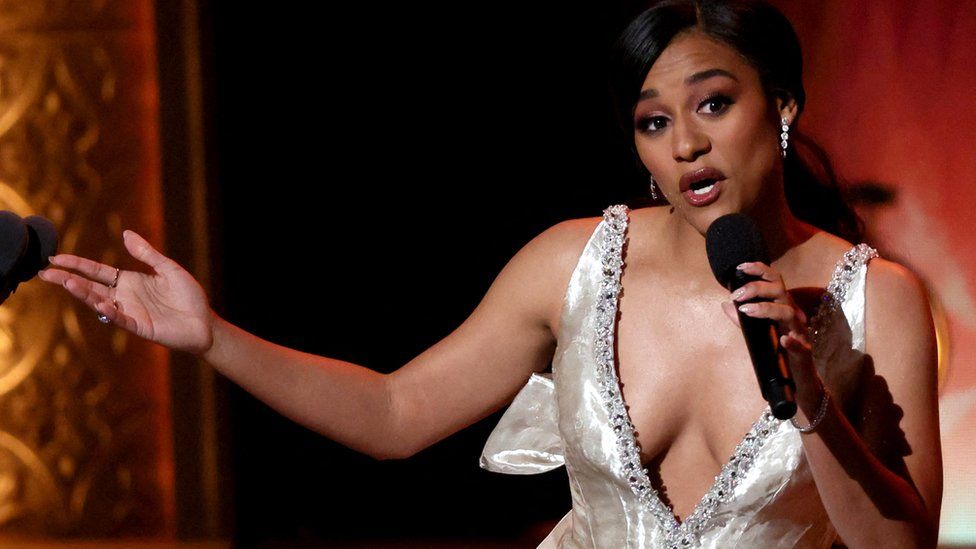 Also at Sunday's ceremony, Alex Newell and J Harrison Ghee became the first non-binary performers to be recognised at the awards.
Newell won the best featured actor in a musical for Shucked, while J. Harrison Ghee, won best leading actor in a musical for playing a gender-questioning musician in Some Like It Hot.
Michael Arden won his first Tony Award for his direction of the Broadway revival of Parade, which depicts the 1913 trial and imprisonment, and 1915 lynching, of the Jewish-American factory manager Leo Frank in Georgia.
In his acceptance speech, Arden said: "Parade tells the story of a life that was cut short at the hands of the belief that one group of people is more or less valuable than another and that they might be more deserving of justice.
"This is a belief that is the core of antisemitism, of white supremacy, of homophobia, of transphobia and intolerance of any kind. We must come together. We must battle this. It is so, so important, or else we are doomed to repeat the horrors of our history."
You may also be interested in:
One of the night's biggest awards, best play, went to British writer Sir Tom Stoppard for his play Leopoldstadt, which also scooped best direction, best costume and best performance by an actor in a play.
British creatives Tim Hatley and Andrzej Goulding, Tim Lutkin and Carolyn Downing picked up awards for the Life of Pi, with Goulding and Downing referencing Sheffield, where the play had its premiere, in their acceptance speeches.
Kimberly Akimbo was named best musical, also scooping best original score and best leading actress for Victoria Clark.
Best musical – Kimberly Akimbo
Best book of a musical – Kimberly Akimbo, David Lindsay-Abaire
Best original score – Kimberly Akimbo, David Lindsay-Abaire (lyrics), Jeanine Tesori (music)
Best revival of a play – Suzan-Lori Parks' Topdog/ Underdog
Best revival of a musical – Parade
Best performance by an actor in a leading role in a play – Sean Hayes for Good Night, Oscar
Best performance by an actress in a leading role in a play – Jodie Comer for Prima Facie
Best performance by an actor in a leading role in a musical – J. Harrison Ghee for Some Like It Hot
Best performance by an actress in a leading role in a musical – Victoria Clark for Kimberly Akimbo
Best performance by an actor in a featured role in a play – Brandon Uranowitz for Leopoldstadt
Best performance by an actress in a featured role in a play – Miriam Silverman for The Sign in Sidney Brustein's Window
Best performance by an actor in a featured role in a musical – Alex Newell for Shucked
Best performance by an actress in a featured role in a musical – Bonnie Milligan for Kimberly Akimbo
Best scenic design of a play – Tim Hatley & Andrzej Goulding for Life of Pi
Best scenic design of a musical – Beowulf Boritt for New York, New York
Best costume design of a play – Brigitte Reiffenstuel for Leopoldstadt
Best costume design of a musical – Gregg Barnes for Some Like It Hot
Best lighting design of a play – Tim Lutkin for Life of Pi
Best lighting design of a musical – Natasha Katz for Sweeney Todd: The Demon Barber of Fleet Street
Best sound design of a play – Carolyn Downing for Life of Pi
Best sound design of a musical – Nevin Steinberg for Sweeney Todd: The Demon Barber of Fleet Street
Best direction of a play – Patrick Marber for Leopoldstadt
Best direction of a musical – Michael Arden for Parade
Best choreography – Casey Nicholaw for Some Like It Hot
Best orchestrations – Charlie Rosen & Bryan Carter for Some Like It Hot
Special Tony Award for lifetime achievement in the theatre – Joel Grey and John Kander
Isabelle Stevenson Tony Award – Jerry Mitchell
Regional theatre Tony Award – Pasadena Playhouse
Tony Honours for excellence in the theatre – Victoria Bailey, Lisa Dawn Cave and Robert Fried