WWE WrestleMania 39 Highlights: Roman Reigns defeated Cody Rhodes, Edge beats Finn Balor inside HIAC and Bianca retained her Raw Women's Championship.
WWE WrestleMania 39 Live Highlights:
 In the main event, Roman Reigns beat Cody Rhodes to continue his historic reign as the WWE Undisputed Universal champion with some help from Solo Sikoa. Edge and Finn Balor put on a classic inside Hell in a Cell which culminated with The Rated-R Superstar emerging victorious over the 'Demon'. Meanwhile, Shane McMahon made his return to the WWE for the first time since January last year but his comeback lasted nearly seconds as the 53-year-old injured himself in the ring. Reports suggest it's a legitimate injury, potentially an ACL tear. Snoop Dogg put himself in place of Shane and beat the Miz in another impromptu match. Earlier, Gunther retained his Intercontinental championship in another potential 5-star classic overcoming a barrage of assaults from Sheamus and Drew
McIntyre
. Brock Lesnar vs Omos started Day 2 in what turned out to be a thunderous battle between two heavyweights. Lesnar overcame an early assault from Omos to hit him with the F5 and pick up the win. The team of Shayna Baszler and Ronda Rousey picked up the win in the Wrestlemania Women's showcase tag team contest when the 'Baddest Woman on the planet' made Shotzi tap out to the arm bar.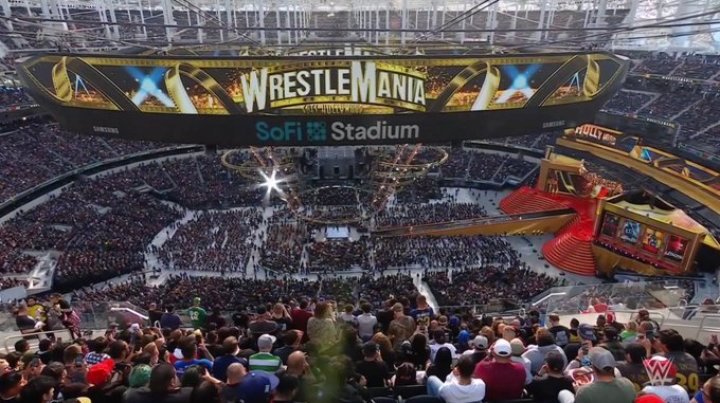 WWE WrestleMania 39 Live: ROMAN REIGNS HAS DONE IT AGAIN!

Cody Rhodes was on his way to a fourth Cross Rhodes before Paul Heyman had the referee distracted, allowing Solo Sikoa to sneak back in and hit Cody with the Samoan spike. Reigns then hits the spear to pick up the win and extend his record-breaking title reign. Thankyou for joining everyone. It was an honour to witness such a main event and bring all the action to you. Until next time, it's a goodbye. And don't forget to acknowledge your TRIBAL CHIEF today.

Apr 03, 2023 09:03 AM IST

WWE WrestleMania 39 Live: Here come Owens and Zayn

Incredibel scenes. Just as The Usos double team against Cody, out come Kevin Owens and Sami Zayn. Reigns gets hit with the stunner and the Helluva Kick but Reigns still won't stay down. As the referee comes to his conciousness, Roman getshis shoulder up and the main-event continues. This spectacle is still on.

Apr 03, 2023 09:00 AM IST

 WWE WrestleMania 39 Live: Cody beats the Reigns' submission, Usos interfere

Reigns trapped Cody in his submisison but Cody finds a way to beat it, the first person to ever do it. Meanwhile, the referee gets knocked out and it allows The Usos to intervene.

WWE WrestleMania 39 Live: SPEARRR!

Cody did not see that coming. He tried to use momentum against Reigns but runs right into a vicious spear from Reigns. But wait, it's still not over. Cody gets his shoulder up and Roman is in utter disbelief.

Apr 03, 2023 08:52 AM IST

WWE WrestleMania 39 Live: ROMAN KICKS OUT AGAIN!

Another kick out! Reigns goes for a Superman punch but cody counters it into a Pedigree. Just when the referee's hand was about to come down for the three, Roman got his shoulder up. However, Reigns connects with a secind time around and this time Cody stays alive.

Apr 03, 2023 08:50 AM IST

WWE WrestleMania 39 Live: Solo ejected, Roman kicks out of Cross-Rhodes!

Solo Sikoa slapped Cody Rhodes with his own belt but the referee heard the noise and ejected him out of the arena. An alert Cody hits Roman with the Cross-Rhodes but Reigns gets his shoulder up as the crowd in the arena exploded. What a moment, what a spot